Goldco® Are Trusted By More Independent 3rd Party Consumer Protection Agencies Than Any Other Gold Company
What's In Your Free Gold Investor Kit?
The Gold Investment Guide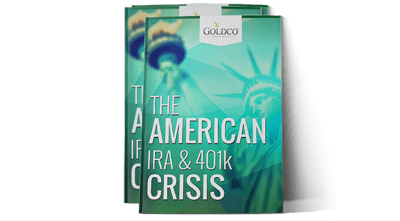 The IRA Crisis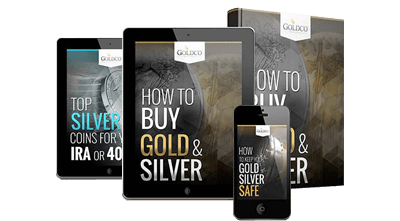 Instant Access to e-Guides
The Gold Investment Guide
Goldco's number one publication, The Gold Investment Guide has helped more than 30,000 new investors make sense of an often confusing marketplace – while taking advantage of a little-known tax loophole.
From buying the right gold at the right prices, to saving money on world-class vaulting facilities and even avoiding an ever-growing list of common gold scams, this physical guide and it's accompanying eBooks should be essential reading no matter what stage you're at in your investment journey.
Written in easy to follow language by top analysts, metals brokers and security experts the Gold Investment Guide is express shipped direct to your doorstep.
Get an "unfair" advantage over other investors and order your free copy today.
The IRA Crisis
There's a major crisis brewing and it's getting worse every day – yet nobody seems aware of it.
If you're part of the "baby boomer" generation, it's something you really need to know about because this crisis could cause your retirement savings to quite literally crumble to dust.
Even if you think you've got your retirement covered you're going to be horrified that not only are you wrong, but dead wrong. Everything you've carefully planned for and the hard-earned money you've put away is at risk.
But it's not too late and there are simple steps you can take to not only inoculate your account from this financial virus, but to grow your retirement nest egg into an investment powerhouse.
How? This Guide Reveals All.
Instant Access to Award-Winning e-Guides
Get unlimited access to a library of gold and silver investment guides and education materials from some of the biggest names in precious metals including:
How to Buy Gold and Silver
How to Sell Gold and Silver
The Stockmarket vs Gold and Silver
10 Reasons the Dollar Will Crash
How to Keep Your Gold and Silver Safe
The Gold IRA Handbook
Top Gold Coins for Your IRA
Top Silver Coins for Your IRA
5 Mistakes that Can Destroy Your IRA or 401k
Retirees Guide to IRA and 401ks
The Truth About Home Storage IRAs
10 IRA and 401k Mistakes You Are Making
5 Ways to Get the Most From Your IRA
Why Your IRA or 401k is Not Working
Enjoy lifetime access or download these guide to your computer – ALL for FREE
Goldco's gold investor kit is without doubt the best free precious metals education pack available. Here at Bullion.Directory we list over 1400 Bullion dealers, and most give away PDF guides or leaflets – but Goldco's physical pack is the only one we ever recommend to friends and family"
Al Macallister – Bullion.Directory
Why Precious Metals?
We could tell you about how gold has been used as a store of value across thousands of years, protecting generational wealth in times of conflict, wars and during all major financial crises.
We could give facts and figures about how gold has gained an annual average of 9% every year since 1974, how the market is buoyant and currently undervalued.
We could even display graphs like this, showing how gold has outperformed all other major asset classes since the turn of the century, with a return over 300% better than that achieved by the average investor:


Indeed we could do all of that and let gold sell itself as the incredible market hedge and portfolio diversification tool that it is – but there's something else gold can do that's far more important than any long-term capital growth, profit or financial gain…

In a word – Retirement.
As you'll read inside The IRA Crisis, if you're an American or own any assets priced in US dollars, then you're staring down the barrel of what may be the biggest financial crisis America has ever faced.
We're not alone in our assessment. Some of the best-known names in financial analysis are horrified at what they have seen brewing in our retirement system, growing like a malignant tumor and feeding off the careful plans, hopes and dreams of ordinary Americans like me and you.
The trigger could come a year from now, six months, next week – or even tomorrow; and when this crisis does erupt don't go looking for a bail out from the federal government – because this time they're the ones holding the gun.
This is why we're trying to warn as many American families as possible, because ALL of this is preventable – and one of the key components in the cure is gold and it's sibling silver.
While the 2007-2008 financial crisis saw retirement accounts drop over 50% practically overnight when paper assets like stocks and bonds tanked, gold enjoyed a 166% gain from it's 2008 low to 2011 high, helping protect and stabilize smart investor's IRA accounts.
Silver added a 448% profit to investor pockets from market low to high over the same period.
Whether the IRA Crisis is triggered within a year as we predict – or not – our financial markets are still broadly cyclical. Over the past 50 years we've seen a crash or recession on average every 10 years, like clockwork.
We fell overdue the next crash back in 2018 and as each day passes and global instability increases with new threats like the Coronavirus threatening to push us into a deep recession, Gold's use as a market hedge becomes all the more important.
Gold simply protects. The fact that you can buy Gold inside an IRA at a massive tax advantage is just the icing on the cake.
START YOUR PRECIOUS METALS INVESTMENT TODAY – FOR FREE!*
To help celebrate Goldco's 10th anniversary all kit owners who complete a Goldco Precious Metals IRA application will receive a solid silver Anniversary Coin in addition to the full kit!
PLEASE NOTE COINS ARE STRICTLY LIMITED STOCK – T&Cs APPLY
Why Goldco Precious Metals?
Goldco are America's number one provider of tax-advantaged gold retirement plans.
Built on a strong ethical foundation, Goldco leads the field for customer care and efficiency – introducing wealth-preserving physical gold and silver into hundreds of IRA accounts each month.
After evaluating your needs, your Goldco advisor will take you step-by-step through the whole investment process, ensuring every element of the tax-saving transfer is both legal and safe.
From choosing a trusted IRS custodian to helping you select the most appropriate investments and arranging ultra-secure vaulting, Goldco is with you every step of your journey.

As a family man, I wanted to create a company that served families, with service that is ethical, respectful and customized to your unique needs. Ten years later, these principles have been the bedrock of Goldco's success"
Trevor Gerszt: Founder, Goldco Precious Metals
But don't just take our word for it…
Rated A+ with the BBB and awarded 5 stars at every major consumer review site, Goldco regularly win industry awards including Bullion Dealer of the Year at Bullion.Directory – winning their top spot in the Gold IRA sector.

I have talked to other precious metal companies and I talked to Kevin Troy from Goldco.

After talking with Kevin, in great detail about buying precious metals, I felt very assured, that it was the right thing to do at this time. The process at Goldco's end was very easy and everyone at Goldco was very professional."
Jeanette – North Palm Beach, FL
★★★★★
I am a first time buyer, with absolutely no experience in buying precious metals. I wanted to diversify my 401K so I would have some insurance against my stock portfolio. The staff at Goldco made it a simple 1, 2, 3 process. The staff was courteous and responsive and most important, knowledgeable! Their service was prompt. I look forward to working with them in the future, should I decide to purchase more gold and silver or sell my existing investment."
Richard – Oceanside, CA
★★★★★
I can only say my experience was absolutely great. Everything was explained to me in detail to where I understood exactly what was going on with my investment from start to finish. The team at GoldCo are extremely informative and answered any questions I had with no problems. I was updated on constantly and found that to be an asset to me to know what was going on at all times. I liked the convenience of being able to call with any questions no matter what it was, it was answered to my satisfaction."
Melissa – Memphis, TN
★★★★★
I have been reviewing my options dealing with my inherited IRA and heard of gold on the radio. After researching companies on the internet, I made the inquiry to Goldco. They were prompt but not pushy (I own my sales company with 10 employees). When I decided to make the move, the people here are first class in helping answer questions, setting up paperwork, and recommending the types of coins available with knowledgeable information backing their choices. Having diversified into precious metals has balanced my portfolio with my other traditional IRA investments."
Gerald – Casper, WY
★★★★★
I've bought gold coins from Goldco on three separate occasions. Silver coins too. All told about a dozen phone calls were required. All of the "busy work" like calling my broker and arranging money transfers and filling out paper forms were handled by Goldco. Each time my questions were answered – first by Mr. McFarlane and later by Mr. Katz – in a courteous and straight forward manner. I was well pleased."
William – Warner Robins, GA
★★★★★
I just completed my second transaction with GoldCo as part of a roll-over IRA. Once again, the process was handled very professionally.

My account executive and his associates have been very patient, courteous and helpful. I highly recommend this company."
Thomas – Middletown, CT
★★★★★
Order YOUR Kit Now
By clicking the Kit Request button, you agree to our Privacy Policy and authorize Goldco to contact you to arrange shipping. This call may be on a recorded line at the telephone or mobile number you entered and may utilize automated telephone technology including auto-dialers, and text messages, even if your telephone or mobile number is currently listed on any state, federal, or corporate "Do Not Call" list. No purchase is required.